An abundance of events in the Twin Cities this weekend. Check it:
THURSDAY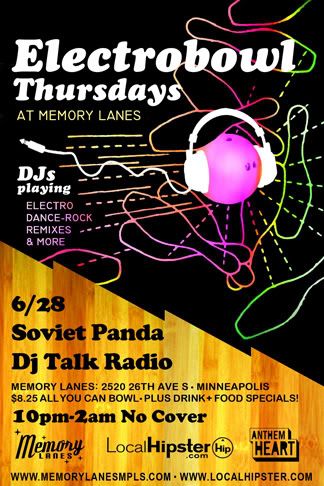 Talk Radio's
new night at
Memory Lanes
(2520 26th Ave S) debuts this Thursday, and I'll be helping him with DJ duties. It's cheap bowling, cheap drinks, cheap food, and
cheap
awesome electro jams from 10-2. There's no cover, and you're not going to find anything better to do, so come hang.
FRIDAY
Friday is going to bring some serious heat... this is one of those events where so many of my friends are involved I'm, like, already there, or something. It's the end of the month, which means it's time for my boy
Nyteowl's
party in the
First Ave VIP room
,
Night Flight
. This is a very special edition, as our main Milwaukee dudes
the Glamour
are coming up to celebrate Asher
Diamonds'
birthday. To top it off, the whole thing is curated by one Jonathan Ackerman. This is going to be the fucking shit. Click on the flier by Mint Condition to enlarge.
SATURDAY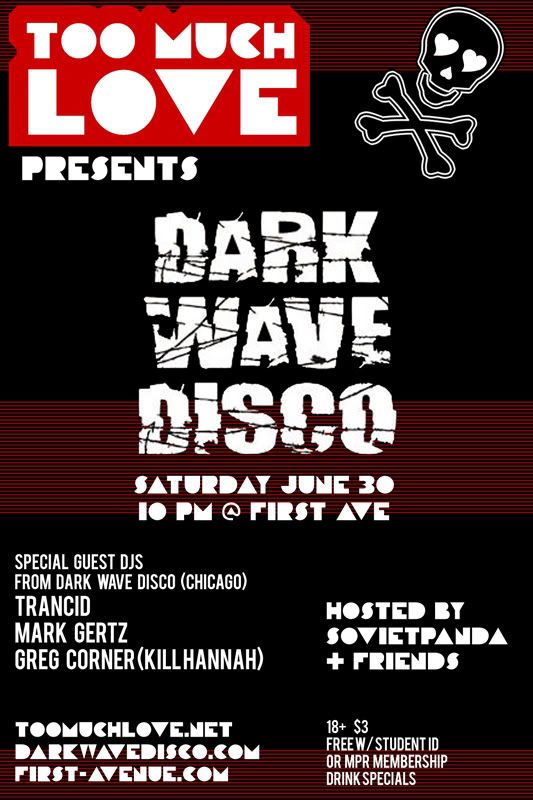 Then on Saturday is a special edition of
Too Much Love
in the
First Ave mainroom
. We have special guests from
Dark Wave Disco
in Chicago coming in to DJ, and it is going to be nuts. I'll be playing, then
Trancid
,
Mark Gertz
, and Greg Corner will be taking over for the rest of the night. Mayhem is assured. If you haven't been to TML lately, it's been crazy every week, and this one should be no exception, if not crazier. There may be some after party business as well, which I may or may not be involved in, so hit me up later in the week if you're interested...