I will be DJing this free promo event on Thursday night. It's a pretty elaborate production, with a big set-up, surprises in store, and free high quality drinks and food. Click the image for more info. It'll be worth checking out and I hope to see you there.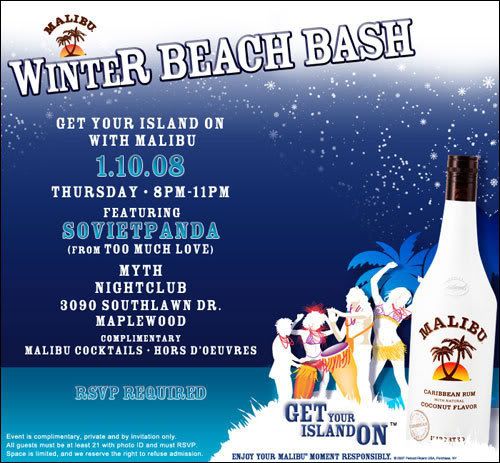 Malibu Winter Beach Bash
featuring SOVIETPANDA
free drinks and food
free
RSVP
required
Thursday 1/10/2008
8pm - 11pm
@
Myth
FREE
Click here for free RSVP
To help get you in the mood, here's a song I heard for the first time ever on my favorite radio station ever last week. It's a high-gloss Beach Boys rip-off by Tony Burrows' act First Class. Apparently Tony Burrows is the only person to have ever appeared on Top of the Pops three times in one episode for three different acts (and he was subsequently black-listed by the industry since the public doubted someone could credibly front three different popular acts). This song is insane. It has a horn breakdown, like French horn-horn. Who thinks of that?
First Class - "Beach Baby"
If you have a better version of the mp3, send it along.
Please spread the word and tell your friends. Thanks!